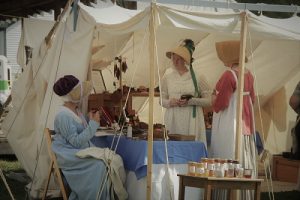 Celebrating its 9th annual engagement; living history reenactors, historians and tourists alike have gathered at the Glengarry Pioneer Museum for its one-of-a-kind portrayal of what life was like for all classes of people in Upper/Lower Canada during the War of 1812.
Nine museum buildings will come to life. Historical interpreters and reenactors will animate each of the buildings as they showcase the trades and commerce of Upper Canada. Visitors are encouraged to interact as they hear the stories and dramatizations while living history reenactors recreate a vivid snapshot of civilian, indigenous, military, and aristocratic life of the region.
Although, the majority of the battle engagements in Upper Canada were fought extensively along the Niagara frontier; Living History Reenactors from across Ontario, Quebec and the United States have agreed that the Glengarry Pioneer Museum offers a close resemblance of what a typical settlement in Upper Canada would have looked like.
With the military bivouacked in their canvas tents and the civilians animating village life, this little open air museum becomes a backdrop for an epic period encounter. This year, the War of 1812 Living History Weekend will be honouring the indigenous peoples who were the first pioneers. Together, we will be highlighting their culture, traditions and their ultimate sacrifice for future generations of Canadians.
If you could attend one event this fall, this one would be it. The event runs Saturday September 29, 2018 from 10am-5pm and Sunday September 30, 2018 from 10am-3pm.