Set of 6 Ralph Connor Books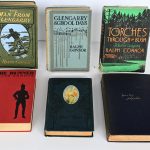 Starting Bid: C$14.00

Going for C$40.00 Winning: Norman maccrimmon
Ending On: July 21, 2021 12:00 pm
Set of six Ralph Connor Books, including: The Man From Glengarry, Glengarry School Days, Torches through the Bush (in original dust jacket), The Runner, Black Rock and The Life of James Robertson.
Value: $35
Terms: summer-2021
Norman maccrimmon bid C$40.00 on July 21, 2021 11:15 am
Leah Fawcett bid C$37.00 on July 20, 2021 6:42 pm
Eric Little bid C$35.00 on July 20, 2021 6:12 pm
Ryan Seguin bid C$18.00 on July 20, 2021 11:13 am
Norman MacCrimmon bid C$15.00 on July 15, 2021 8:03 am
Kimberley Little bid C$14.00 on July 7, 2021 7:09 pm
Enter your email below to get notifications of new bids placed on the above item.
Shipping Details
Shipping: n/a
From: n/a
To: n/a
Payment Details
Winner will receive PayPal payment link via email.