Set of 3 Ralph Connor Books with Dust Jackets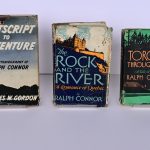 Starting Bid: C$12.00

Going for C$12.00 Winning: Norman MacCrimmon
Ending On: July 21, 2021 12:00 pm
Set of three Ralph Connor books in original dust jackets.
Postscript to Adventure, an autobiography of Ralph Connor
The Rock and the River
Torches through the Bush
Value: $30
Terms: summer-2021
Norman MacCrimmon bid C$12.00 on July 15, 2021 8:01 am
Enter your email below to get notifications of new bids placed on the above item.
Shipping Details
Shipping: n/a
From: n/a
To: n/a
Payment Details
Winner will receive PayPal payment link via email.