Painted Plaque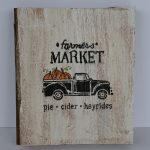 Hand painted plaque on antique barn board.
Created and donated by: Linda Rutgers of Studio "R" Crafts: Knitting, Jewelry, Photography, Crochet. Find her on Facebook @Studio R Crafts
Retail Value: $15
Terms: summer-2021
Enter your email below to get notifications of new bids placed on the above item.
Shipping Details
Shipping: n/a
From: n/a
To: n/a
Payment Details
Winner will receive PayPal payment link via email.