Museum Gift Basket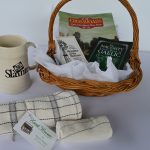 Starting Bid: C$30.00

Going for C$40.00 Winning: Ryan Seguin
Ending On: July 21, 2021 12:00 pm
Gift basket containing: "Slainte" beer stein, tea towel and dish towel set (made by Glenda Myers), "Naughty Little Book of Gaelic", "At The Crossroads – 50 Years at the Glengarry Pioneer Museum", one-year membership to the Museum.
Retail Value: $75
Terms: summer-2021
Ryan Seguin bid C$40.00 on July 20, 2021 9:33 pm
Kimberley Little bid C$35.00 on July 20, 2021 8:52 pm
Ryan Seguin bid C$32.00 on July 19, 2021 11:24 am
Ryan Seguin bid C$30.00 on July 19, 2021 11:19 am
Enter your email below to get notifications of new bids placed on the above item.
Shipping Details
Shipping: n/a
From: n/a
To: n/a
Payment Details
Winner will receive PayPal payment link via email.