"Lady in Red Hat"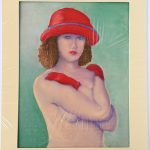 Painting: Pastel on board
Dimensions: 21 x 26"
Created and donated by Bernie Lauzon.
Value: $80
Terms: summer-2021
Enter your email below to get notifications of new bids placed on the above item.
Shipping Details
Shipping: n/a
From: n/a
To: n/a
Payment Details
Winner will receive PayPal payment link via email.