Knife Sharpening Service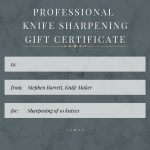 Starting Bid: C$50.00

Going for C$72.00 Winning: Jen
Ending On: July 21, 2021 12:00 pm
Give your knives a new lease on life! Professional knife sharpening service for up to 10 knives: kitchen or pocketknives of any size.
Knives can be dropped off and picked up at the Museum.
Donated and performed by Stephen Barrett
Retail Value: $120
Terms: summer-2021
Jen bid C$72.00 on July 20, 2021 8:35 pm
Bob Garner bid C$70.00 on July 20, 2021 4:33 pm
Jen bid C$67.00 on July 19, 2021 6:45 pm
Bob Garner bid C$65.00 on July 18, 2021 12:27 pm
Jennifer bid C$62.00 on July 16, 2021 3:50 pm
Bob Garner bid C$60.00 on July 13, 2021 1:47 pm
Nancy bid C$50.00 on July 12, 2021 11:31 am
Enter your email below to get notifications of new bids placed on the above item.
Shipping Details
Shipping: n/a
From: n/a
To: n/a
Payment Details
Winner will receive PayPal payment link via email.