Iron Forged Trivet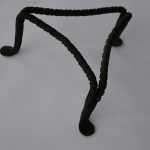 Starting Bid: C$16.00

Going for C$25.00 Winning: Carolynn Barrett
Ending On: July 21, 2021 12:00 pm
Hand forged trivet to place your hot pans on in historic style.
Custom made by Blacksmith, Pat Taylor. Look for him on Facebook @Two-Hammers, or call 613-306-1378 if you want to see more of his custom work.
Retail Value: $40
Terms: summer-2021
Carolynn Barrett bid C$25.00 on July 21, 2021 8:11 am
Jennifer bid C$20.00 on July 15, 2021 9:34 am
Enter your email below to get notifications of new bids placed on the above item.
Shipping Details
Shipping: n/a
From: n/a
To: n/a
Payment Details
Winner will receive PayPal payment link via email.