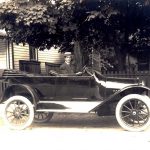 Saturday June 16, 2018
This tour is popular every year!  Join the convoy of participants in exploring various historical sites throughout Glengarry and Prescott. A guest speaker will be at each location and lunch is provided.
Announcing the line-up for this year's driving tour!
08:45    Registration at the Museum
09:00    Museum – Welcome and Ice Harvesting
                 Greenfield – Collection Storage Facility & Church of St. Catherine of Siena
                 Bev McLennan's home – Collection of Antique tools
12:00    Boy Scout Camp – Lunch and Music
                 History of Apple Hill
                 Glengarry Sports Hall of Fame
                 Metcalfe Family Home
15:30    Glengarry Pioneer Museum – Social Time
Pre-registration is required for this event. Please call the museum (613-527-5230) or send an email (info@glengarrypioneermuseum.ca) to reserve your spot.
Cost: $30 for members & $35 for non-members  –  Includes entrance fees, snacks, & lunch
Special thanks to our sponsors: