Gardeners Gift Basket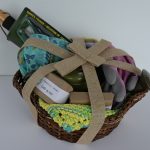 Starting Bid: C$22.00

Going for C$25.00 Winning: Marlie Tilker
Ending On: July 21, 2021 12:00 pm
Everything you need to start a small garden of herbs or greens. A basket for collecting herbs, a small and medium pair of gardening gloves, a gardening shovel, garden twine in dispenser, garden pruners, and a small watering can for gentle gardening of seedlings. After the work is done, you can use one of the gardeners soap bars (coffee soap with coffee grinds) (3) or unscented hibiscus (1) and handknit washcloths to wash up.
Created and donated by: Louise Leblanc-Mazur, Rainmaker Soap Company, Apple Hill.  rainmakersoapco@rogers.com
Retail Value: $55
Terms: summer-2021
Marlie Tilker bid C$25.00 on July 17, 2021 9:45 am
Ann bid C$22.00 on July 7, 2021 1:50 pm
Enter your email below to get notifications of new bids placed on the above item.
Shipping Details
Shipping: n/a
From: n/a
To: n/a
Payment Details
Winner will receive PayPal payment link via email.