Book: Sketches of Glengarry in Canada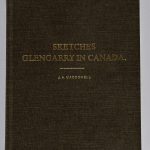 Starting Bid: C$20.00

Going for C$30.00 Winning: Suzanne Grant
Ending On: July 21, 2021 12:00 pm
Sketches illustrating the early settlement and history of Glengarry in Canada: relating principally to the revolutionary war of 1775-83, the war of 1812-14, and the rebellion of 1837-8, and the services of the King's Royal Regiment of New York, the 84th or Royal Highland Emigrant Regiment, the Royal Canadian Volunteer Regiment of Foot, the Glengarry Fencible or British Highland Regiment, the Glengarry Light Infantry Regiment and the Glengarry Militia.
Only 500 copies made, this is copy 430. Originally published 1893, this edition published 1985.
Value: $50
Terms: summer-2021
Suzanne Grant bid C$30.00 on July 21, 2021 11:42 am
Ryan Seguin bid C$28.00 on July 20, 2021 8:33 pm
jamesp bid C$25.00 on July 7, 2021 8:08 pm
Suzanne Grant bid C$21.00 on July 7, 2021 6:04 pm
James Prevost bid C$20.00 on July 7, 2021 12:47 pm
Enter your email below to get notifications of new bids placed on the above item.
Shipping Details
Shipping: n/a
From: n/a
To: n/a
Payment Details
Winner will receive PayPal payment link via email.