Conservation of an Artifact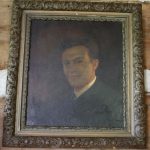 This item is for a donation to support one of the museums conservation projects. We have 2 special items that are in need of some extensive care to preserve them for years to come. These items are a turn of the century cutter and a WWII era portrait featuring Pilot Officer Robert J. McCormick by local artist, Stuart McCormick. This money would be exclusively used towards these items cleaning and preservation. To thank the winner, acknowledgment will be placed with the artifact as well as other public avenues. Since this is essentially a cash donation towards conservation, a tax receipt can be issued to the donor.
Enter your email below to get notifications of new bids placed on the above item.
Shipping Details
Shipping: n/a
From: n/a
To: n/a
Payment Details
Winner will receive PayPal payment link via email.