Friday February 9, 2018 – Appetizers at 6:00 pm, Dinner at 7:00 pm
How long were you without power? Twenty long winters ago, that was the question everyone asked.
To mark the 20th anniversary of the ice storm of 1998, the Glengarry Pioneer Museum is holding an "We SURVIVED" party. The evening includes a hearty Italian buffet, swapping tales of the pioneer spirit that emerged across Glengarry and a silent auction with things you may need if and when the ice returns.
Located at the Bonnie Glen Pavilion, 19596 County Road 43
Buy your tickets online here, or
The Quirky Carrot (Alexandria) or
Scotiabank in Maxville.
Annual General Meeting
April 20, 2018
The Annual General Meeting is open to anyone interested in museum business. The evening will start with a pot luck dinner at 6:00, so bring your favourite dish. It's a great way to meet the Board and socialise with the growing museum community. The evening will feature a Guest speaker and a preview of the 2018 season at the museum.
Located at the DRA Hall in Dunvegan.
Opening Weekend
Spring is in the air and the museum is officially open for the 2018 season!  Come check out our new exhibits  and get the scoop on all of the events planned for the 2018 season.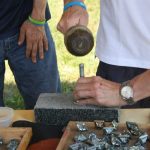 June 9-10, 2018
Returning in 2018, the museum grounds will be filled with the sounds of blacksmiths hard at work! There will be fun and interesting activities for the whole family! $10/non-members; $5/member; $25/non-member family
June 16, 2018
Don't miss this popular tour! Hop in your car with a group of friends and get ready to join the convoy of participants in exploring various historical sites throughout Glengarry and Prescott. A guest speaker will be at each location and lunch is provided. Pre-Registration is required. Call the museum or send us an e-mail to reserve your spot.  Registration deadline is June 11, 2018.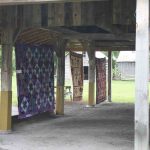 July 7-8, 2018 : 11:00 am – 4 pm
Returning to the Museum this year is the popular Quilt and Fibre Weekend.   This event will include: demonstrations, displays, education and hands on workshops in some if not all of the following: Quilting, Spinning and Weaving, Rug Hooking, Sheep Shearing, Fleece Competition, Auction etc.
Cost: $10
July 26, 2018
Enjoy a beautiful summer night with live entertainment on the museum grounds. Agincourt will be performing at 7:00 pm. Bring a lawn chair and some drinks and enjoy! We suggest a donation of $15/person.
Tartans & Clans - Guest Speaker Julia Danskin
July 29, 2018     Talk at 2 pm
Julia Danskin will delight us with a talk on Tartans and Clans
July 21 – 29, 2018
Members of the Glengarry Artist's Collective will showcase their art in the Orange Lodge and the Big Beaver Schoolhouse.   Come out and see one of a kind works of art from local artists.
August 12, 2018 
The Museum will host speakers Jan M. & John E. Milnes who will make a presentation on British Home Children.
Saturday August 18, 2018 and Sunday  August 19, 2018
The Museum will be participating in the Doors Open event for Stormont, Dundas and Glengarry.   Free admission all day to the Museum buildings and grounds.
September 9, 2018 11 am – 4 pm/Le 9 septembre, 2017 11 h à 16 h
Every year, thousands of visitors flock to this Festival at the Glengarry Pioneer Museum in the village of Dunvegan. This rural community comes together to help put on an amazing day of pioneer harvest demonstrations, a horse-drawn carriage parade, live music, pioneer craft demonstrators and a harvest tent filled with preserves, local produce, baking and heritage plants. There is something for all ages, from the children's games and petting zoo, to taking in a threshing demonstration and walk through the 1860s Star Inn and other historic buildings. There is something different every year!
September 29 & 30, 2018 – Saturday 10:00 – 5:00, Sunday 10:00 – 3:00
Experience 19th century military life…right up close and personal. The Glengarry Light Infantry and other Living History reenacting groups such as the 1812 Civilians and Native Allies are setting up camp at the Museum. Let your children don uniforms and take part in muster rolls. Learn how they lived, watch musket demos, and step back in time! Different activities will be scheduled for each day. Food and refreshments will be on site.
Battles – 3:00 pm Sat. & 2:00 pm Sun.
October 13th and October 27th,  2018 – 7:00 pm – 10:00 pm 
Bytown Paranormal from Ottawa will take you on a tour of the museum buildings and will reveal their findings to us all on their investigations into paranormal activity at the Museum.